I can hardly believe that today marks the release of my eighth full-length novel, Hour of Need.
RT Book Reviews says, "This dazzling first installment of Leigh's breathtaking new Scarlet Falls series will have readers hooked in an instant."
Hour of Need
While fighting in Afghanistan, Major Grant Barrett receives devastating news: his brother and sister-in-law have been murdered in Scarlet Falls, the sleepy suburb of Grant's youth.
Emotionally scarred from war, the career soldier returns home on emergency leave to temporarily care for his orphaned nephew and niece.
But when someone tries to kidnap the kids and their teenage babysitter, Grant knows it's not a random act… and neither were the murders.
Already devastated by her neighbors' violent deaths, Ellie Ross is shattered by the attempted abduction of her teenage daughter so she desperately turns to Grant for help. As they navigate a deadly search for the truth, they struggle with growing feelings for each other and Grant's impending return to Afghanistan.
But time is running out.
The killer is growing bolder by the hour, and Ellie and Grant must find him before the children become his next victims.
In celebration of this exciting release, I'm hosting a Kindle Fire HDX giveaway!  (US residents only)  See my author Facebook page for details.
Look for Book #2 in the Scarlet Falls Series, Minutes to Kill, in June 2015. On a business trip to Las Vegas, corporate attorney Hannah Barrett tries-and fails-to stop the abduction of a teenage girl.
As the only witness to the violent kidnapping, a devastated Hannah soon learns that what happens in Vegas can follow you home.
In other news, I just finished a four novella series, co-written with my author friend, Kendra Elliot: The Rogue River Series.  In a small town like Solitude, Oregon, keeping a secret can be murder. Learn more about the Taylor sisters, Carly and Stevie, in this four novella series.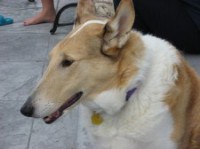 Lastly, in a personal note of sadness, we lost our beloved collie, Sunshine last month. She was a member of our family for over twelve years and played mama-dog to my kids when they were little.
Even though we still have another dog and 2 cats, we were so sad and our house felt so empty, that last weekend we adopted a dog from a local rescue.
Roxy is 1-2 years old.
Her breeding is a bit of a mystery. Our best guess is she's an Australian cattle dog/bulldog mix (though from certain angles, she looks like she could be part cow.). As you can see in the picture, Roxy has made herself right at home. She is quite the snuggler. While no animal can replace Sunshine, we're thrilled to give another animal a loving home.
Our house is now the safe haven for 4 rescues.
Roxy is house-broken. In less than 2 days, she's going to the back door to let me know when she needs to go out. She seems to be past the chewing stage and has been a relatively easy add to the family. For anyone considering a new pet, please consider adopting a rescue.
Happy Holidays!   – Melinda